TruckDues keeps innovating new technologies and ways to make e-filing form 2290 more simple and easily accessible. As a result, our TruckDues Android Mobile App offers you a compatible application to e-file your Form 2290 with the IRS and get your Schedule 1 copy within a few minutes. So, download our app right now from the Playstore and e-file your form 2290 returns in a much secure and smarter way.
Smart Application for Smart Tax filing
Android smartphones and tablets are fantastic devices that enable you to control the world in your palm. You can carry out tedious tasks just with a few touches of your fingers. You can also do more and more with the right application at your disposal in maintaining and managing your trucking business. TruckDues Android Mobile Application is such an application that solves all your truck tax form 2290 problems easily. You can e-file, report, and pay your form 2290 tax returns right from your mobile phone. It saves you from hours of driving, standing in queues, and going directly to the IRS office.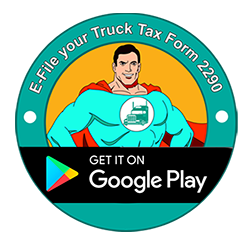 TruckDues – You perfect tax buddy!
TruckDues mobile app serves as your handy smart buddy to simplify your HVUT form 2290 reporting through the modernized e-filing method. Our mobile application is yet another method for you to easily e-file your tax reports online and get IRS form 2290 Schedule 1 copy straight to your phone within a few minutes. TruckDues brings you the tangible, stress-free form 2290 tax filing experience with our unique tax engine and attractive user interface. Our tax calculator feature gives you the exact estimation of your form 2290 tax amount for your trucks before filing the taxes.
TruckDues Application drastically reduces the human-made error while filing and processing your tax form 2290. The entire operation is automatic and governed by experts. All your process and queries will be sorted out within a few minutes.
Form 2290 Tax Payments
Our 2290 e-file mobile app contains all the IRS-approved form 2290 tax payment methods. You can choose your convenient payment method that best suits your needs. We encourage our users to opt for Electronic Funds Withdrawal or direct debit method. In these payment options, the IRS directly takes the exact tax amount from the taxpayer's bank account. There are also EFTPS and card payment methods that are self-responsible methods for taxpayers to make it on time. Otherwise, you can always write a check or pay through money order to the IRS for your form 2290 tax dues.
Form 2290 Amendments and VIN Corrections
You can e-file for VIN corrections and form 2290 amendments through TruckDues mobile application. For example, suppose your gross vehicle weight or total mileage increased after you reported your form 2290 tax returns. In that case, you can easily apply for new form 2290 and get the revised official IRS digitally watermarked Schedule 1 copy within a few minutes. You can also e-file VIN corrections for free of cost if you reported the original returns in TruckDues.
Form 2290 Refund Claims
TruckDues helps you to adjust the tax on a credit vehicle into a new one. You can also e-file your form 2290 tax returns for your new truck. You can also add the credit claim of your sold/traded vehicle in the same return of your new truck and adjust the refund against the 2290 tax dues. You can also e-file the requisition for low mileage refund claims and overpaid taxes from your TruckDues mobile application itself.
Instant Alerting Service
You can get instant text alerts and notifications to remind your form 2290 tax returns, receive the IRS official watermarked schedule 1 copy by fax, get alerts on your tax form 2290 due dates and 2290 renewal. Our alerting system keeps you updated on all your 2290 tax returns and the latest updates.
Form 2290 Customer Support
Our tax experts are always there for you to guide you through every step of e-filing form 2290 online. We are available for your support on all the working days from 8:00 AM to 6:00 PM CST. You can have a live chat with our executives or call them directly at your convenience. Reach us at (347) 515 – 2290 or support@truckdues.com