Here is a quick overview of Form 2290 HVUT
IRS charges taxes for using the heavy motor vehicles on the public highways of the United States through tax form 2290 highway heavy vehicle use tax. You should pay form 2290 tax returns directly to the IRS for your taxable vehicles every year at the beginning of the tax period. Generally, a tax period starts on July 1st of every year and lasts till June 30th of the following year. So, you will have time till the end of August 31st to file or renew form 2290 for the current tax year. Your vehicle should have a total gross weight of 55,000 or more to be eligible for form 2290 tax payment. Also, commercial vehicles should cross more than 5,000 miles, and agricultural vehicles should cross more than 7,500 miles on the public highways to be eligible for form 2290 highway use taxes. If your heavy motor vehicle doesn't fall under these categories, you should file form 2290 HVUT with the IRS and report for tax suspension of your vehicle.
Report 2290 Tax Returns Online
E-filing form 2290 directly to the IRS is the best way to report your heavy vehicle use taxes to the IRS. E-filing process automates your entire tax preparation. All you have to do is sign-up for free in truckdues.com, punch in the necessary details and information, select your form 2290 tax category, pay the tax amount and service free online and get your schedule 1 copy within a few minutes of approval. TruckDues is an IRS-approved online form 2290 e-filing service provider.
You will get the IRS digitally stamped schedule 1 copy straight to your email. You can then print it and use it as the official proof of form 2290 tax returns. You can view and review your tax filing history through your TruckDues account. We offer you permanent record keeping of your tax files which will come in handy during the IRS audit times.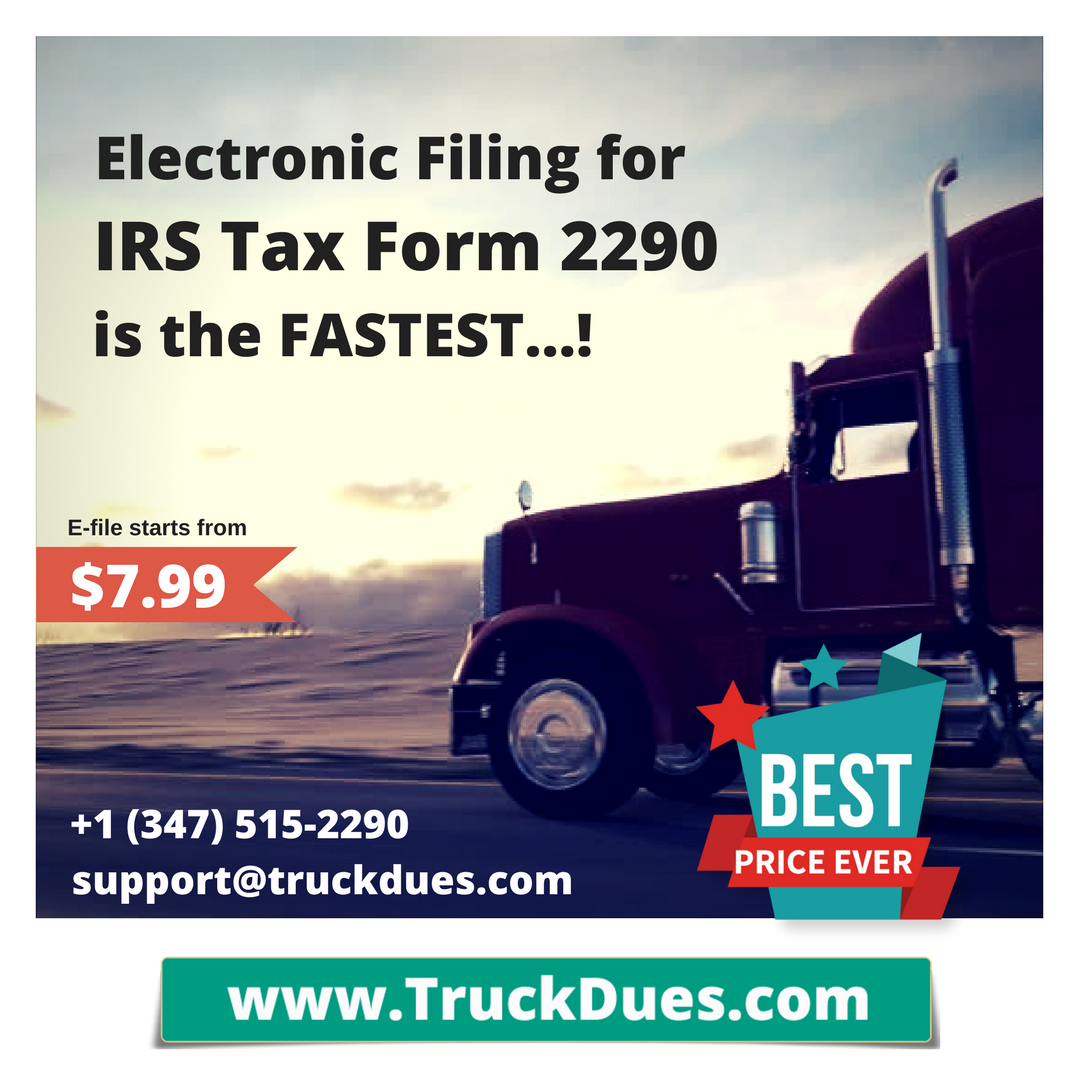 E-filing starts at $7.99
TruckDues made e-filing affordable for our beloved trucking community in our website and mobile applications. E-filing form 2290 has lots of advantages, and mainly, you can save a lot of time and money than the usual paper filing method. E-filing form 2290 reports start at $ 7.99 for single-vehicle returns at truckdues.com. TruckDues offers the best price in the market for e-filing form 2290 online.
We accept all the major credit card and debit cards, including VISA, American Express, Master Card, Discover Card, and much more. You don't have to pay anything upfront; you can register with truckdues.com for free and start e-filing form 2290 road tax anytime you please. You can pay only after preparing your form 2290 tax reports.
You can get your IRS digitally stamped schedule 1 copy through any means you want. It will automatically get sent to your registered email. And we also fax your schedule 1 copy based on your request during the time of checkout.
Proud TruckDues.com user Mr. Andronicus McDonald from Port Orange, Florida quoted
"This website made my 2290 tax filing so simple that I would never use another program unless they stop e-filing 2290's. I reviewed several other companies that had heavier advertisements with expensive pricing. If you are nervous about filing your own taxes, trust when I say this is the perfect software for you. Couldn't be any easier, Thanks TruckDues."
TruckDues.com - "The Best Priced" website partner with 1000s of truckers reporting 2290 taxes is the most trusted website. We build the trust and faith, no more looking back… choose efiling and save you time and money. #happytrucking #safetrucking