Heavy Highway Vehicle Use Tax, Form 2290
Anyone who registers a heavy highway motor vehicle in their name with a taxable gross weight of 55,000 pounds or more must file Form 2290, Heavy Highway Vehicle Use Tax Return. The filing season for Form 2290 filers is July 1 through June 30. You must file Form 2290 for the month you first use the taxable vehicle on public highways during the reporting period.
For vehicles you first use on a public highway in July, file Form 2290 between July 1 and Aug 31. The truck tax for the current filing season will be prorated for vehicles you first use on a public highway after July. File Form 2290 by the last day of the month following the month in which you first used the vehicle on a public highway.
You must have an established employer identification number to efile Form 2290. Apply online now if you don't already have an EIN; it takes us about two weeks to establish new EINs. You may electronically file your return two weeks from the date your EIN was assigned so your name control is established in our system. If you e-file it before then, your return might be rejected.
Electronic filing or eFile.
Electronic filing is required for each return reporting and paying tax on 25 or more vehicles that you file during the tax period. Tax suspended vehicles (designated by category W) aren't included in the electronic filing requirement for 25 or more vehicles since you aren't paying tax on them. However, you are encouraged to file electronically regardless of the number of vehicles being reported. File Form 2290 electronically. Once your return is accepted by the IRS, your stamped Schedule 1 can be available within minutes. You could download the same from your email or by accessing your account in the TruckDues website.
There are other various reasons that refer you toward electronic filing and they are,
Fastest, the fastest way to complete reporting your 2290 taxes with the IRS.
Convenient, most convenient too access it anywhere anytime. At your door steps and all you need is a computer with internet connection.
Guidance, step-by-step walk though and support from our representatives through your filing till you complete it.
Secure, most secured only you have the access to your date connects with the IRS servers directly
Simple, easiest way to do it. Answer simple interview questions and complete your 2290 return in a jiffy
Schedule-1 in minutes, choose eFile for quick delivery of their watermarked Schedule 1
Free VIN Correction, correct typos and misplaced VIN# instantly for free
eFile Amendments, other corrections on your taxable gross weight and mileage use limit made easy
More Accurate, report your taxes right. You won't be missing out anything and human error could be avoided greatly.
Easy Access, available all day (24 X 7) from anywhere anytime to eFile 2290 or to download returns and schedule-1 receipts
Re-submit for Free, when your return gets rejected for mismatch of date correct it instantly and resubmit it for processing. Don't even need an amendment return in case of rejection.
Most economic, obviously the most economical 2290 filing option and save big on your preparation fees. You could also do it by yourself and no need to hire a paid preparer.
Value for money, form 2290 efile starts at $7.99 for a single vehicle return and if you expect to file multiple returns through the tax period then go for our unlimited pricing option, $199.99 for a tax period.
Easy Claims, owe your refund on a traded or sold vehicles electronically, or adjust the claim against tax bill while report 2290 on a newly added vehicle.
Highly Safe, our website is 100% secured with SSL and Hacker proof premium software's licenses.
No need for a drive, no more blocking appointments at IRS office or driving to get it filed, the service is at your door step.
High time to choose eFile, let this year 2018 be the year to choose eFile. Say no to paper return.
Smart eFile, 2290 eFile is the SMART option as 1000s of truckers already choosing eFile as their preferred choice when it comes to 2290 reporting.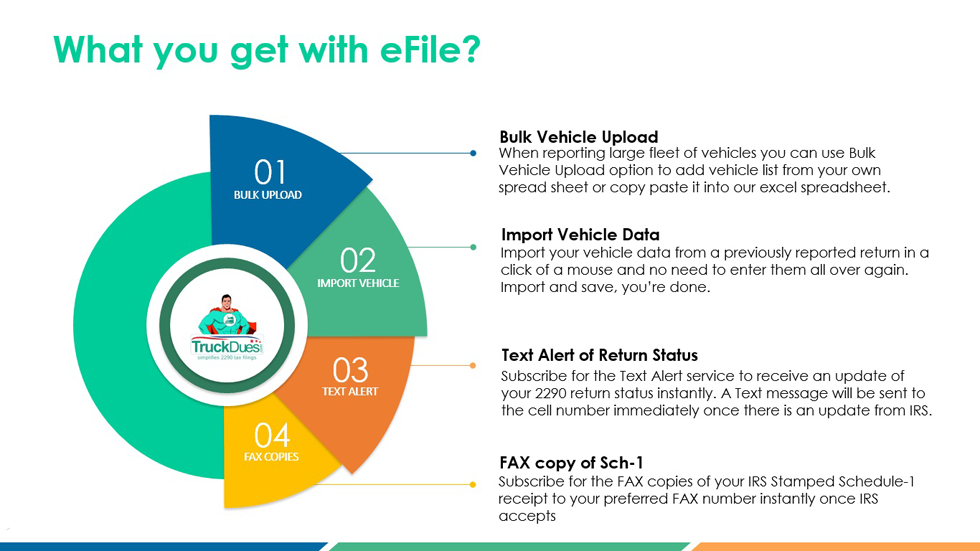 TruckDues intention is to make 2290 electronic filing affordable and available to every trucker regardless of their size. Most of our customers are Owner Operators & Independent Drivers. We always offer our premium service to you to make sure you have a rewarding experience and start referring us to your business contacts, trucking friends and community to eFile 2290.
Call support available for free
Feel free to connect with us, we're working from 9:00 AM to 6:00 PM CST on all business working days. You could also have a live chat with our agents and talk to them over phone. We're available at (347) 515 – 2290 or support@truckdues.com.