Pre-filing 2290 tax returns is allowing you to secure more time in advance to prepare and report the federal vehicle use tax returns. Pre file is filing early, in short. No need to wait till July to start estimating your 2290 vehicle use tax and pay the tax bill. Prefile will let you to complete it in advance, allows you sufficient time to get your returns prepared and submit it in our website. Once IRS opens to accept these 2290s by 1st week of July, we will submit your return with them and get it done. Once IRS accepts it, the water marked Schedule-1 receipt is shared with you as a proof and you could use them across to renew your plates / licenses.
Prefiling for the New Tax Year 2018 – 2019 (July 2018 – June 2019)
TruckDues is now ready to accept your 2290 truck tax returns for the upcoming Tax Year 2018 – 2019 from June 1st. During this prefiling period, you can prepare your tax return and complete it with all information. We'll hold it in our server securely until IRS starts accepting it. Once IRS announces it, we'll push these returns and get it done.
There may be many reasons for you to work with your 2290 tax returns as early as in July, it falls due by August 31. You could plan for your tax payment, you get to know the estimated tax bill for your heavy vehicles, you could have the Schedule-1 handy the first day IRS starts accepting.
Pre-filing can make doing your tax return easier and more accurate. It sounds as simple as it is, "I went online, put in my details, sent it, printed it and I'm done."
REMEMBER 2290 EFILE IS $7.99 ONLY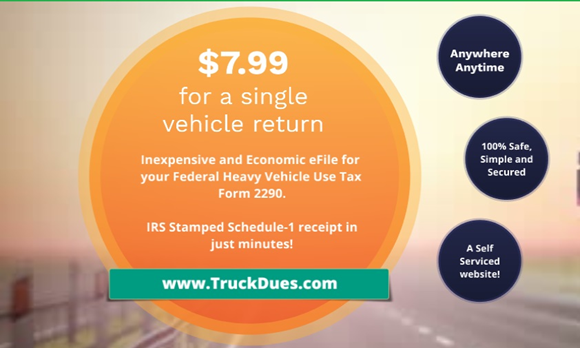 Getting start with Prefiling
You just need to have your Employer Identification number (EIN is a must), Legal Business Name (as it is in the IRS records), Vehicle Identification Number (VIN) and the Taxable Gross Weight of your vehicle. The important thing here is to select the upcoming tax year, put in the first used month and in case if you are a returning user then import your vehicle date from previously accepted returns. You may also use Bulk Vehicle upload option to add more vehicles in a click. Choose a payment option from electronic funds withdrawal (EFW) or EFTPS. Use your credit/debit card pay the economic efile service fee ($7.99 for single vehicle return) and submit it. From here we take care of it, securely saving it in our servers and push it when IRS starts accepting 2290s for processing. You could get back your acknowledgement, called the Schedule-1 receipt once IRS issues it in 1st week of July.
Call support available for free
Feel free to connect with us, we're working from 9:00 AM to 6:00 PM CST on all business working days. You could also have a live chat with our agents and talk to them over phone. We're available at (347) 515 – 2290 or support@truckdues.com.